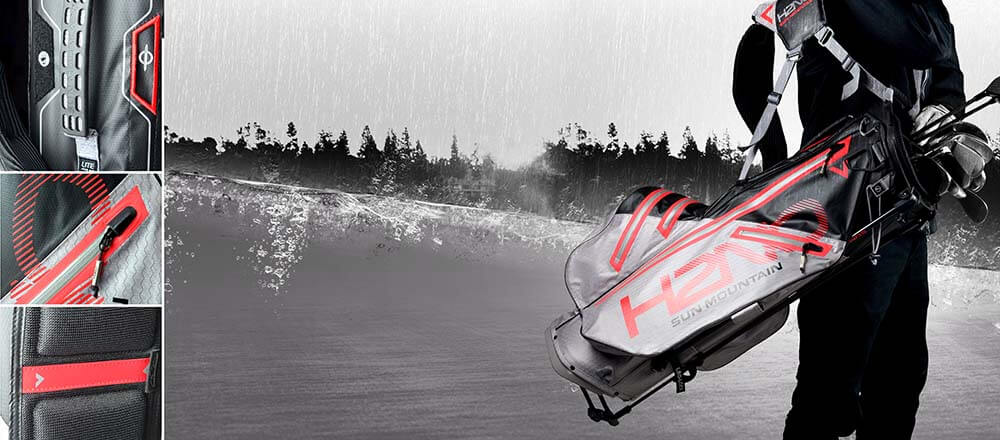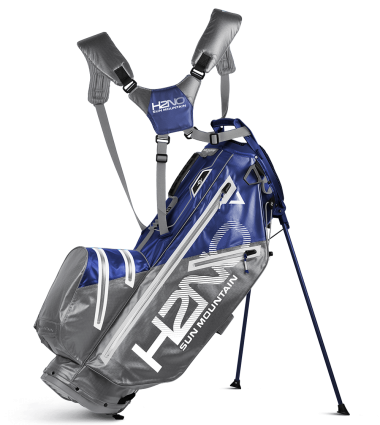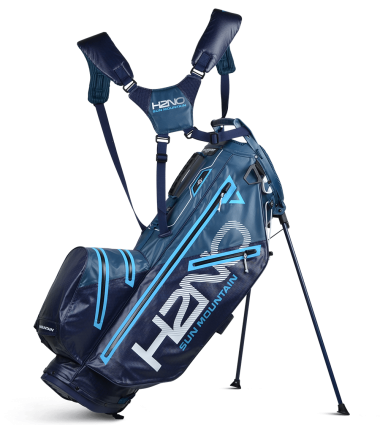 H2NO Lite 14-way Stand Bag
Weighing under five pounds, the H2NO Lite 14-way provides waterproof protection in a lightweight package. The H2NO Lite 14-way is a full-featured bag constructed with waterproof fabrics, high-quality YKK water-resistant zippers and taped seams. The 10.5" top has 14 individual dividers that run the full length of the bag to prevent the migration of club shafts.
Constructed with same waterproof technology as some of our rainwear, the fabric is coated on both sides with a 2000 mm waterproof coating.
Bag is waterproof when the rainhood is used as designed in conjunction with the bag.
There are six pockets including a full-length apparel pocket, multiple accessory pockets and a velour-lined valuables pocket.
The E-Z Fit Dual Straps are easy to adjust for a custom fit and have grab loops for additional carry comfort.
Matching rainhood included.
H2NO Superlite Stand Bag

Constructed using a superlite waterproof fabric and high quality YKK zippers, the H2NO Superlite Stand Bag features a taped seam design that will prevent the bag letting in even in the harshest of weather.
23cm 4-way top with an integrated handle
High density foam straps for increased comfort
Constructed with waterproof fabrics
High quality YKK zips & taped seams
Waterproof when the rainhood is used
Four pockets including:
– Full length clothing pocket
X- Strap Dual Strap System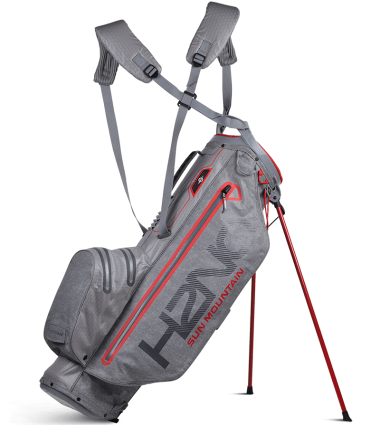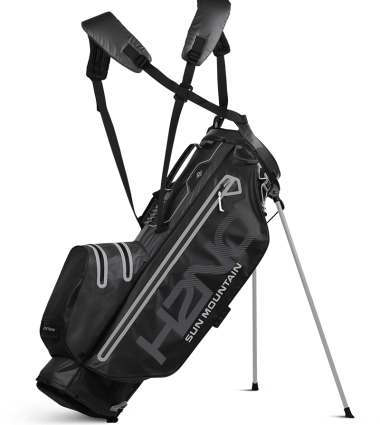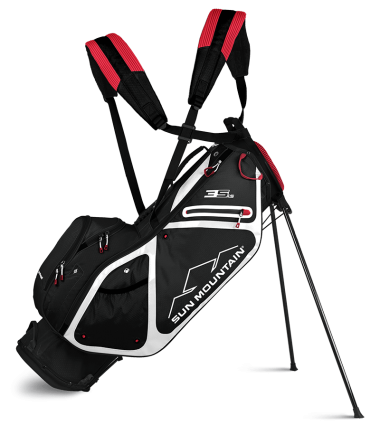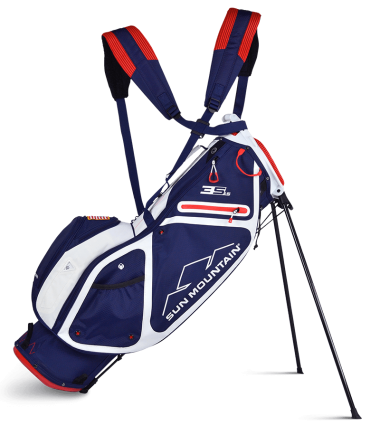 3.5 LS Zero-G Bag
The 3.5 LS Zero-G® combines the 3.5 LS with our Zero-G Technology. Created to reduce the effort required to carry your golf clubs around the course, the Zero-G's unique hip belt transfers the majority of the weight of the bag from your shoulders to your hips. The hip belt is removable for when you are riding a cart.
The hip belt, in conjunction with the X-Strap Dual Strap System, promotes better posture and increased carry comfort.
The belt fits 30" to 50" hips, is easily adjusted and is held securely in place by a buckle closure.
Belt removable for when the bag is used on a cart.
The X-Strap System is easy to get on and off.
The carry straps are constructed with three-layer construction and are contoured for maximum carry comfort.
Matching rainhood included.
C130 Bag
Sun Mountain's best-selling cart bag, the C-130 was created to work optimally on a cart. All of the features are designed with cart use in mind, starting with the reverse orientation top with three utility handles, the Smart Strap System and a convenient, velour-lined rangefinder pocket. In addition, all pockets are forward-facing and accessible when the bag is on a cart.
Fourteen individual club dividers run the full-length of the bag to protect clubs and prevent the migration of club shafts.
Among the ten pockets are two full-length apparel pockets; a ventilated, cooler pocket; and two velour-lined pockets, one of which is water-resistant.
The Smart Strap System attaches the bag to a riding cart with two Velcro® straps which stop the bag from twisting on the cart and prevent the riding cart's straps from interfering with pocket usage.
Includes a matching rainhood.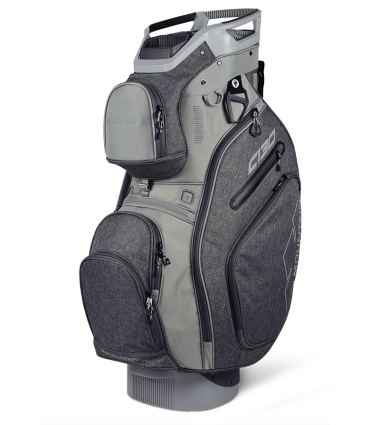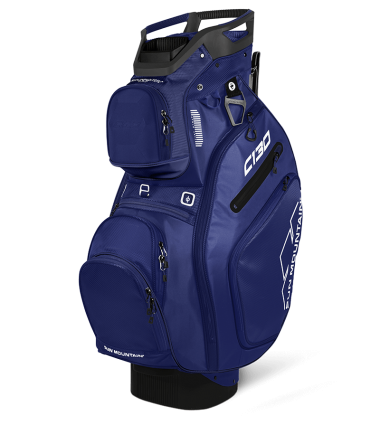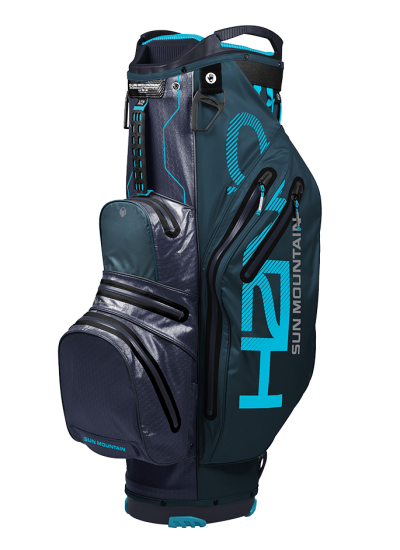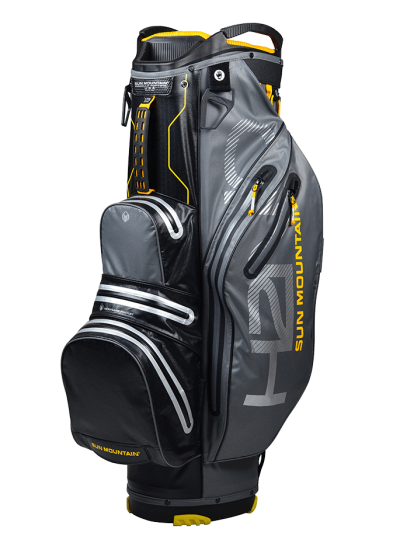 H2NO Lite Cart Bag

For excellent club management Sun Mountain have used a 24cm, 15-way top divider system that features full length individual dividers. An integrated putter well and two grab handles have been included in the top design.
NEW TPU coated waterproof fabric with double sided 2000mm coating
24cm 15-way top with an integrated putter well
Pockets are waterproof, with quality YKK zip pulls
Lower pocket can be embroidered with club logo
All pockets accessible whilst bag is on your cart
Full length dividers
Top also has 2 built-in handles
6 accessory pockets including:
– Two full length clothing pockets
– Velour-lined valuables pocket
– Insulated beverage pocket
Pen, Umbrella & towel holder
Fabric reinforced in potential 'wear areas'
Lift-assist lip underneath ball pocket
Lightweight 5.5lbs (2.5kgs)
ClubGlider Meridian
Awarded Golf Digest Editors' Choice for Travel Bags for 2016-2018, the Meridian minimizes the hassle of traveling with your golf gear. Dense foam padding through the top of the bag protects your clubs; the leg mechanism supports the weight of your bag; and the pivoting wheels make the bag highly maneuverable. Pulling a loaded ClubGlider is nearly effortless.
INTERNAL DIMENSIONS: 52" X 14" X 14"
Leg mechanism is extended and retracted in one easy motion.
No more kneeling on the ground to load/unload your golf bag.
Heavy-duty, two-way zippers run the full length of the bag for easy loading.
Two exterior access pockets store extra gear.
Legs retract into the molded tray for travel.
Reinforced in wear areas.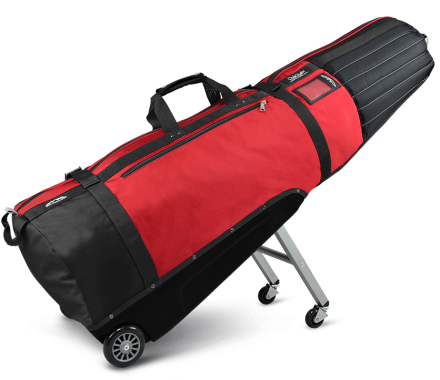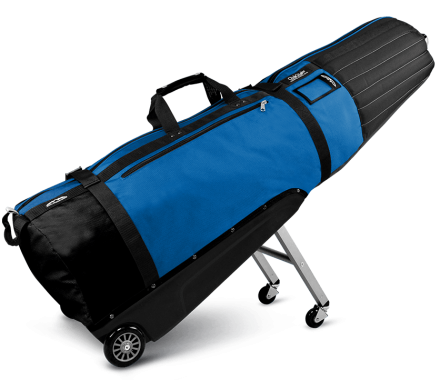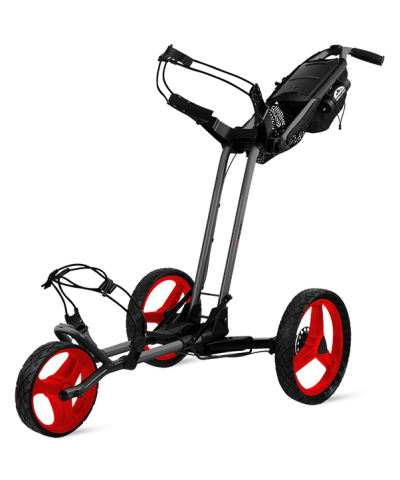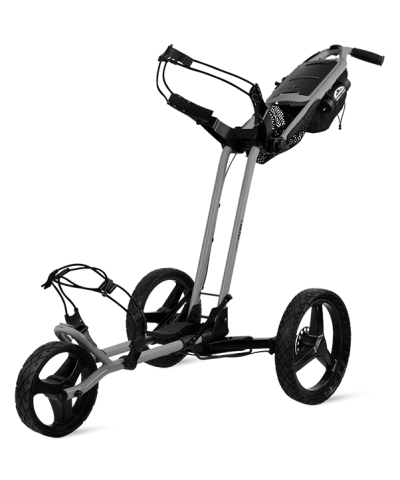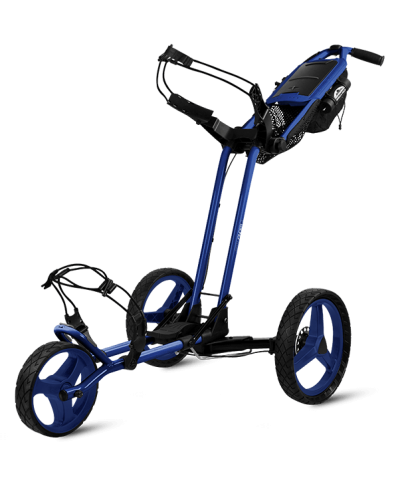 Pathfinder 3 Cart
Pathfinder 3 folds in two simple steps and has a small folded footprint that fits easily in your vehicle. For on-course convenience, the accessory console is designed to hold your cell phone, score card, extra balls and tees. Extra storage is available in the mesh basket and velour-lined valuables pouch, which is perfect for your range finder.
Did you know we also have accessories for our Pathfinder 3? Check out our universal accessories and our Micro-Cart accessories.
Accessory console is designed to hold your cell phone, score card, extra balls and tees. The cell phone holder includes a slot that allows a charging plug to be used when the phone is in place.
For additional storage, the cart has a mesh basket and a velour-lined pouch for your electronics and other valuables.
Adjustable bungee cords on the upper and lower bag brackets secure the bag to the cart.
Tracking system allows for easy adjustment, if needed.