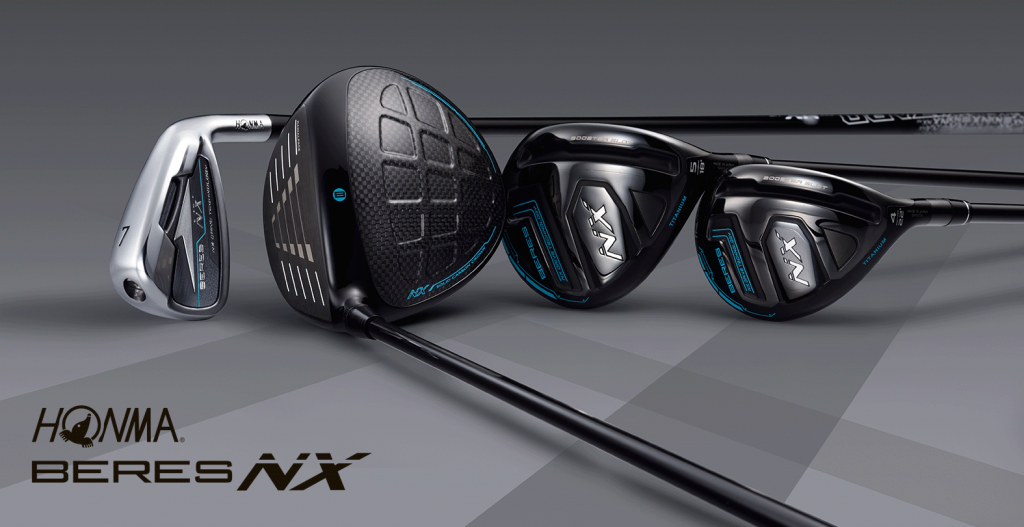 Carlsbad, California – Honma Golf, the leader in beautifully crafted performance golf equipment, announces the North American introduction of the new BERES Nx line of drivers, fairway woods, hybrids and irons. This Next Generation of BERES makes the renowned luxury brand more accessible to golfers who seek ultimate craftsmanship and luxury equipment without the ultra-premium price point of the brand's marquee BERES 3-, 4- and 5-star models.
BERES Nx resides in the game-improvement category but appeals to a younger player than traditional BERES clubs. It can also be played by a broad handicap range, including better players needing stiffer shaft flexes. This new line features Honma's lightweight holistic design that brings together speed and game improvement performance through its traditional integration of head and shafts being designed in tandem. Golfers will be thrilled by the reliable and consistent ball flight they get from BERES Nx.
"This new line helps expand the BERES legacy to a new generation of golfers," says Takahiro Suzuki, senior product marketing manager at Honma. "That's incredibly important to our com- pany. It's a rebirth and continuance of the legacy of the BERES brand that started in 2005. While maintaining the extremely high quality of BERES, we thoroughly pursued advanced technologies and generously adopted Honma's primary technology related to speed and distance. The result is BERES Nx."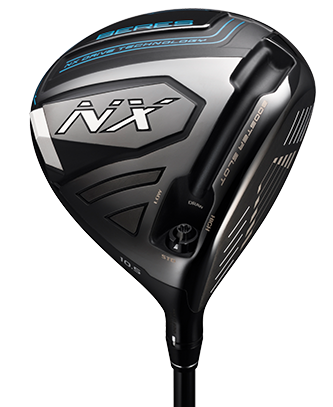 The next-generation, game-improvement BERES Nx driver generates speed and distance. It yields plenty of forgiveness and sports a draw bias design that allows golfers to swing comfortably and still achieve added power.
The club generates high initial ball speed through a new clubface and crown structure. The "Nx Drive Technology" structure – consisting of a no-weld upper L-CUP face, solid carbon crown, hyper wide slot and keel weighting – enhances the initial velocity performance for impressive flight and distance. Its radial face surface expands the toe and heel repulsion areas to the edges of the face, while X Lib increases the rigidity of the face's outer circumference for more resilience.
Golfers can expect high-and-straight trajectory with low spin, thanks to the driver's high Moment of Inertia (MOI) and low/deep center of gravity (CG). Its solid carbon crown and upper L-CUP face work in tandem to fortify the structure for increased repulsion. Use of carbon in the crown also allows weight to be carefully redistributed throughout the clubhead, to maximize performance – a goal Honma master craftsmen in Sakata, Japan achieved by integrating the shaft and clubhead design.
The slot efficiently transmits energy at impact into initial velocity for high trajectory and long distance. The shaft does not rotate, even when the loft and lie angles are adjusted between -1 degree to +2 degrees of loft. Plus, the driver maintains Honma's foundation of beautifully crafted performance and gorgeous aesthetics. Unlike previous BERES clubs, Nx does not come with a star grading. It's available in base lofts of 9 and 10.5 degrees (plus a 10.5-degree left-handed model).
BERES Nx Fairway Woods & Hybrids
The Nx fairway woods and hybrids are natural transitions from the Nx Driver. Like the driver, they also sport a solid carbon crown, radial clubface, booster slot and sole weighting. But they also incorporate a titanium clubface and stainless-steel sole. As a result, they generate plenty of initial ball speed with high trajectory, low spin and ample distance.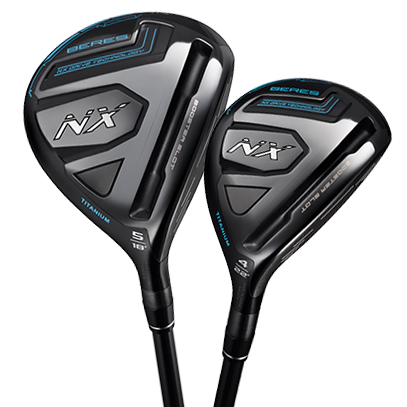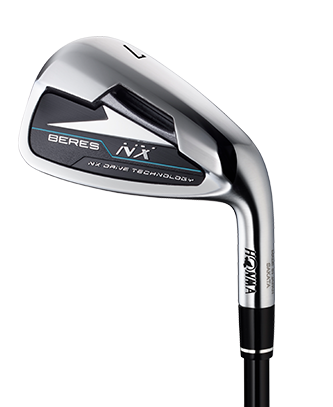 The Nx irons are designed to generate high ball flight and lengthy distance. And it's all due to their structure. A wide sole eases turf interaction but also works in concert with a hollowed-out lower body that's supplemented with tungsten weighting near the toe and a vibration absorbing resin material behind it, plus an ultra-thin clubface – resulting in a high MOI, more impact repulsion, and a low-and-deep CG that together help generate high and straight trajectory. 


Paired with strong lofts, this helps achieve lengthy distance. A Vibration Absorption 3D Emblem adheres to the back of the face, absorbing impact vibration to soften the feel and sound to be that of a forged iron. An L-CUP structure makes the face thickness as thin as possible, and increases clubhead rigidity, as well. The integrated head-and-shaft design accelerates the head speed to improve the flight distance and stability.
As a standard option, every BERES Nx club comes armed with Honma's renowned lightweight VIZARD shaft. VIZARD, which was developed as a T//WORLD shaft, is combined with BERES for the first time here. Based on its integrated design with the Nx clubheads, VIZARD for Nx weighs just 45 grams, appealing to a wide range of golfers. It's generally more flexible in the middle, and more optimized towards the butt and tip – helping you produce proper spin and fast initial velocity. That lets golfers take a comfortable, easy swing while the shaft does all of the work.
A VIZARD for Nx Triple Star shaft is also available as an upgrade, for golfers who can invest more into their clubs. It uses ultra-high elasticity prepreg with a higher tonnage, with low frequency and low torque, while giving flex and suppleness. Thus, this premium shaft realizes even better distance and accuracy.

The BERES NX collection is available in Pan-West stores and Honma Golf @ Wheelock Place #03-03A.
Please contact golf@pan-west.com or 63382380 Honma Flagship Store for more information.