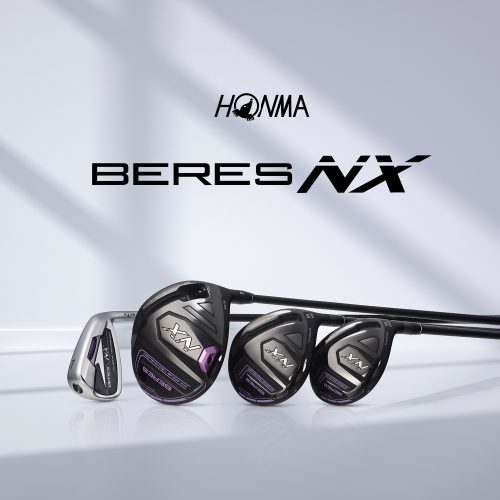 There was a time when ladies golf equipment lagged behind men's gear in terms of technology, construction and design. Today, however, golf club engineers understand the needs and performance demands of women golfers and how quality equipment can bring a competitive edge to the golf course.
When you choose a BERES Nx driver or fairway wood – available for ladies playing to a 6-to-30 handicap – you're putting the enhanced swing speed and the ability to make smooth, athletic swings without making giant changes to your technique.
These stylish woods generate high initial ball speed through a new clubface and crown structure. The "Nx Drive Technology" structure – consisting of a no-weld upper L-CUP face, solid carbon crown, hyper wide slot and keel weighting on the driver – enhances the initial velocity performance for impressive flight and distance. Its radial face surface expands the toe and heel repulsion areas to the edges of the face, while X Lib increases the rigidity of the face's outer circumference for more resilience.
When you have these great looking woods in your bag, you begin to realize we're living in a Golden Age of golf equipment design. Ladies can expect high-and-straight trajectory with low spin, thanks to these clubs high Moment of Inertia (MOI) and low/deep center of gravity (CG). Its solid carbon crown and upper L-CUP face work in tandem to fortify the structure for increased repulsion. Use of carbon in the crown also allows weight to be carefully redistributed throughout the clubhead, to maximize performance.
Honma's Ladies BERES Nx drivers is designed with 11.5 degrees of loft for optimal launch. The Nx fairway woods – available in 15- and 18-degree lofts – are natural transitions from the Nx Driver. Like the driver, they also sport a solid carbon crown, radial clubface, booster slot and sole weighting. But they also incorporate a titanium clubface and stainless-steel sole. As a result, they generate plenty of initial ball speed with high trajectory, low spin and ample distance. The black, grey and purple details adds an element of style and fashion to these high-performance clubs.
The BERES NX collection is available in Pan-West stores and Honma Golf @ Wheelock Place #03-03A.
Please contact golf@pan-west.com or 63382380 Honma Flagship Store for more information.
Keep up-to-date with all of the Honma news on social media: